I've found a new low-cost royalty-free image resource that is a great alternative to Unsplash! It's called JumpStory.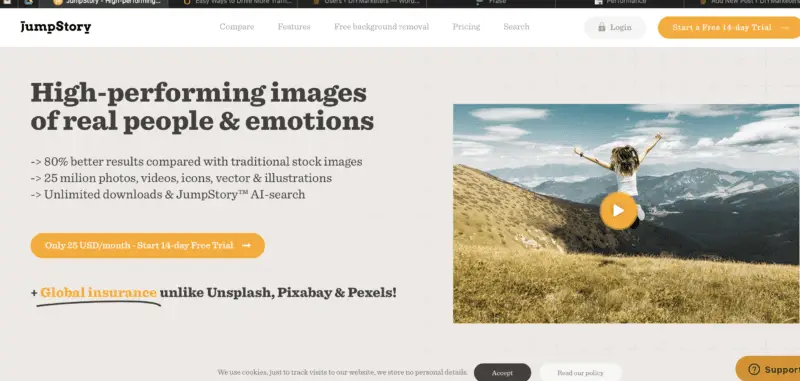 OK, so it's not free like Unsplash. But what you get in return for a low-cost subscription is global insurance. Unsplash can't guarantee that you won't get sued for using a photo improperly.
DIYMarketers has a special offer for folks who decide to try JumpStory: Click over to Jumpstory and use the PROMO CODE: FREE3 to get 3 FREE Months of JumpStory!
A Cheaper Alternative to iStock, Shutterstock
You already know that emotions convert better. And the problem with most stock images (other than the insane price) is that they are just "fake" and your audience knows it.
The lower-cost stock images that you'll find on iStock, Shutterstock or DepositPhotos just don't do the trick.
Here's a photo I've used in the past for the search term "overwhelmed":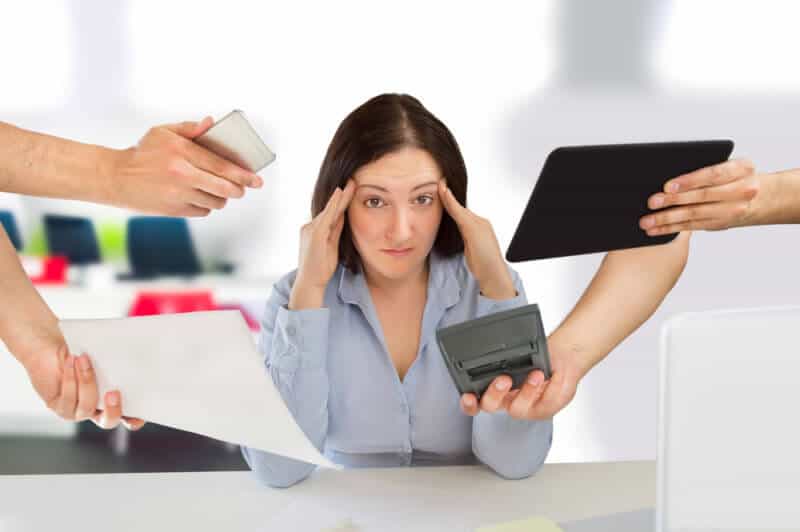 While it certainly conveys the emotion that you want for high-converting images, it is so contrived that it's virtually ignored and just taking up space. In other words, it's not moving your content, story or buyer forward.
Here's a photo I got from JumpStory for the same term "overwhelmed"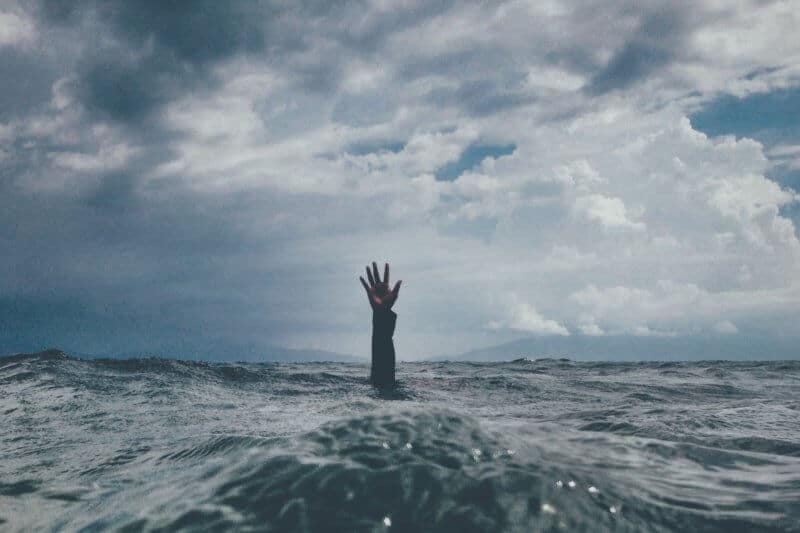 Whether it's contrived or not, I think it looks less "fake" and is a more powerful communication of the desired emotion.
JumpStory Images Carry Global Insurance
Here's a feature you don't normally hear about — until you get nabbed, Global Insurance on photos.
What's Global Insurance for Photos? Well, when you're using FREE photo sites, it doesn't take much to accidentally use an image incorrectly and then have to pay a licensing fee. The best way to avoid this is to pay for images.
But paying for images can get really expensive. AND, if you intend to use those images for marketing materials (a commercial reason), you can end up paying much more than simply editorial (like a blog post).
Even if you've been lucky enough to not have to pay a penalty or a fee for using a photo improperly, why start now?
JumpStory Provides Custom Collections
One of my favorite features is called "Customer Collections".
With other photo sites you have to search for specific types of images yourself. JumpStory's custom collections make this super easy for bloggers. Simply click on the "Custom Collections" menu item and you'll see a series of categories of pre-curated images ready to pick from.
One of my favorite collections that's a real time-saver is the Marketing Calendar. There, you'll find collections based on holidays and seasons that you an easily integrate into any of your marketing campaigns whether it's written content or video.
Use the Personal Assistant to Find Photos For Your Content
Another interesting feature found in JumpStory that I haven't noticed in alternative platforms is something they call a "Personal Assistant".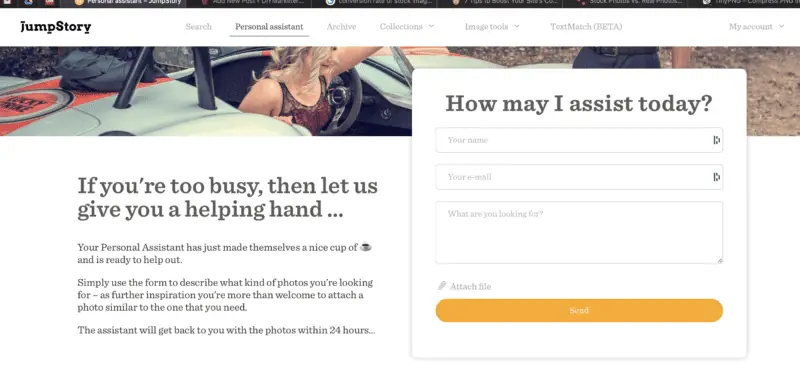 Simply fill out the form, and JumpStory will find just the right image for your marketing campaigns,
Here's a quick video on how it works:
JumpStory Contains Photo Editing Tools
Another unique feature inside the JumpStory platform is a photo editing tool AND a background removal tool.
It's no secret that the best way to increase conversions with images is to make them your own. Instead of jumping from one editing tool to another, you can use their photo editing features.
Customize Your Image with Image Editor
Instead of jumping from one photo editing app to another, just customize your image right inside the platform.
Remove Background
To me, the most useful photo editing feature is "remove background". Up until now, I've used LunaPic to remove background images. But JumpStory's remove background feature is much faster and easier.
Simply upload your image and click on the "remove background" button. That's all there is to it.
Not Sure What Type of Image to Use? Try the TextMatch Feature
This is another feature I've not seen anywhere else. They call it TextMatch.
The idea is to insert a short paragraph of text and the JumpStart AI will find the most relevant images. As I said, it's still in BETA, so it's not perfect just yet, but it's certainly useful.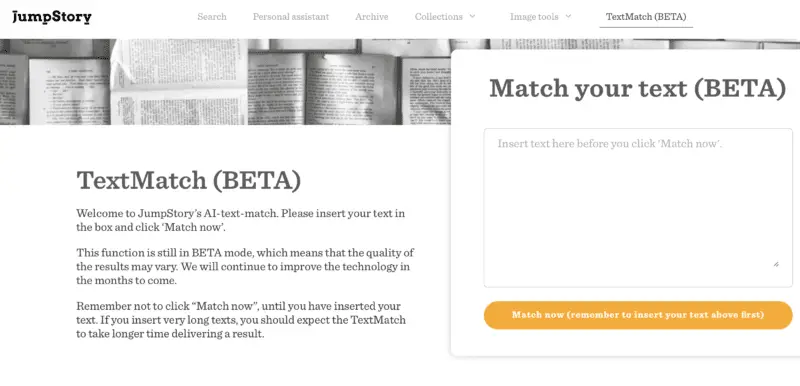 After playing around with entering longer text and shorter text, I wouldn't say that it's quite ready for prime time. But I look forward to seeing how this improves.
The Optimize For Web Feature Will Make You Smile
Compare JumpStory to Your Current Stock Photo Platform
Here's a handy comparison table that you can use to compare JumpStory to your current stock photo provider.
Reasons JumpStory is a Great Alternative to UnSplash
I've been playing with JumpStory for a few weeks now and I really love it! To be honest, it's a great alternative to UnSplash and whatever stock photo platforms you're using.
Variety of Unique Image: With 25 million images in its library, your content images are sure to stand out. How many times have you seen the same UnSplash images all over the place? When people see the same old image or stock photo, they are more likely to ignore the content. Unique images garner more attention
Safety and Security: Every photo on JumpStory is ready to use without confusing licensing issues. This is a great alternative to Unsplash for the simple reason that any photo you use from the platform is guaranteed to be licensed and legitimate.
In-Platform Editing: Other stock photo platforms have editing features inside the platform. But, I find the JumpStory editor easier to use.
Time-Saving Assistant: If you're strapped for time, you can submit your request to JumpStory's assistant and you'll get a curated packet of photos within 24 hours.
Other Features I Would Love to See
After using the platform for a little while, I've come up with a list of features I wouldn't mind seeing.
Set Preferences: I use a TON of images in my social media promotions. One of the things I'd like to do is set my preferences for images size.
Bulk Optimize: I love the "optimize image for web" feature. But, I find that it takes forever to do this with each individual image. I wish I could optimize an entire folder of images and then just drop them into my social campaign.
Download Entire Folder: One feature I'd love to have is the ability to download an entire folder of images. As it is, you're downloading one image at a time and this can take a while if you have lots of images.
Right Click to Download: A related feature request would be to have the right click to download image. Currently you have to click on the image to download, select a size and download. That's a lot of clicks to get an image.
A Special Offer for DIYMarketers Readers
DIYMarketers has a special offer for folks who decide to try JumpStory: Click over to Jumpstory and use the PROMO CODE: FREE3 to get 3 FREE Months of JumpStory!
Source link