Nowadays, it seems like a new company is starting every hour.
While starting a company may seem easier now than ever before, entrepreneurs have an uphill battle from the moment they start a business. On average, a new business competes with 25 competitors to stand out and thrive in its industry.
Aspiring business owners who go in blind without a clear, actionable plan for marketing, hiring, finances, and operations are destined to face significant challenges. This is why crafting a business plan is an essential step in the entrepreneurial process.
In this post, we'll walk you through the process of filling out your business plan template, like this free, editable version:
Download a free, editable one-page business plan template.
We know that when looking at a blank page on a laptop screen, the idea of writing your business plan can seem impossible. However, it's a mandatory step to take if you want to turn your business dreams into a reality.
That's why we've crafted a business plan template for you to download and use to build your new company. You can download it here for free. It contains prompts for all of the essential parts of a business plan, all of which are elaborated on, below.
This way, you'll be able to show them how organized and well-thought-out your business idea is, and provide them with answers to whatever questions they may have.
Building a Successful Business Plan
In the next section, we'll cover the components that make up a business plan, such as an executive summary and company description. But before we get to that, let's talk about key elements that should serve as building blocks for your plan.
At the core, your business plan should answer two questions: why your business and why now?
Investors want to know why your business is entering the market, i.e. what problem it's solving and how it's different from what's currently out there. They also want to know why now is the right time for your type of product or service.
Too often, business plans are too idealistic and not realistic enough. While having a vision is important, your plan needs to be rooted in research and data.
So back to the question of why and why now – consider three things:
Your industry – How does your product or service fit within your industry? Are you targeting a specific niche? Where do you see the industry going in the next five to 10 years?
Your target audience – Who are you targeting? What challenges are they facing? How will your product or service help them in their daily lives?
Your unique selling proposition (USP) – What sets you apart from your competitors? Is it your product/service features? Your company values? Price?
Once you know the answers to these questions, you'll be equipped to answer the question: why your business and why now.
How to Build a Business Plan
Cover Page
Executive Summary
Business Description
Product and Services Line
Market Analysis
Marketing Plan
Sales Plan
Legal Notes
Financial Considerations
Appendix
1. Cover Page
Your business plan should be prefaced with an eye-catching cover page. This means including a high-resolution image of your company logo, followed by your company's name, address, and phone number.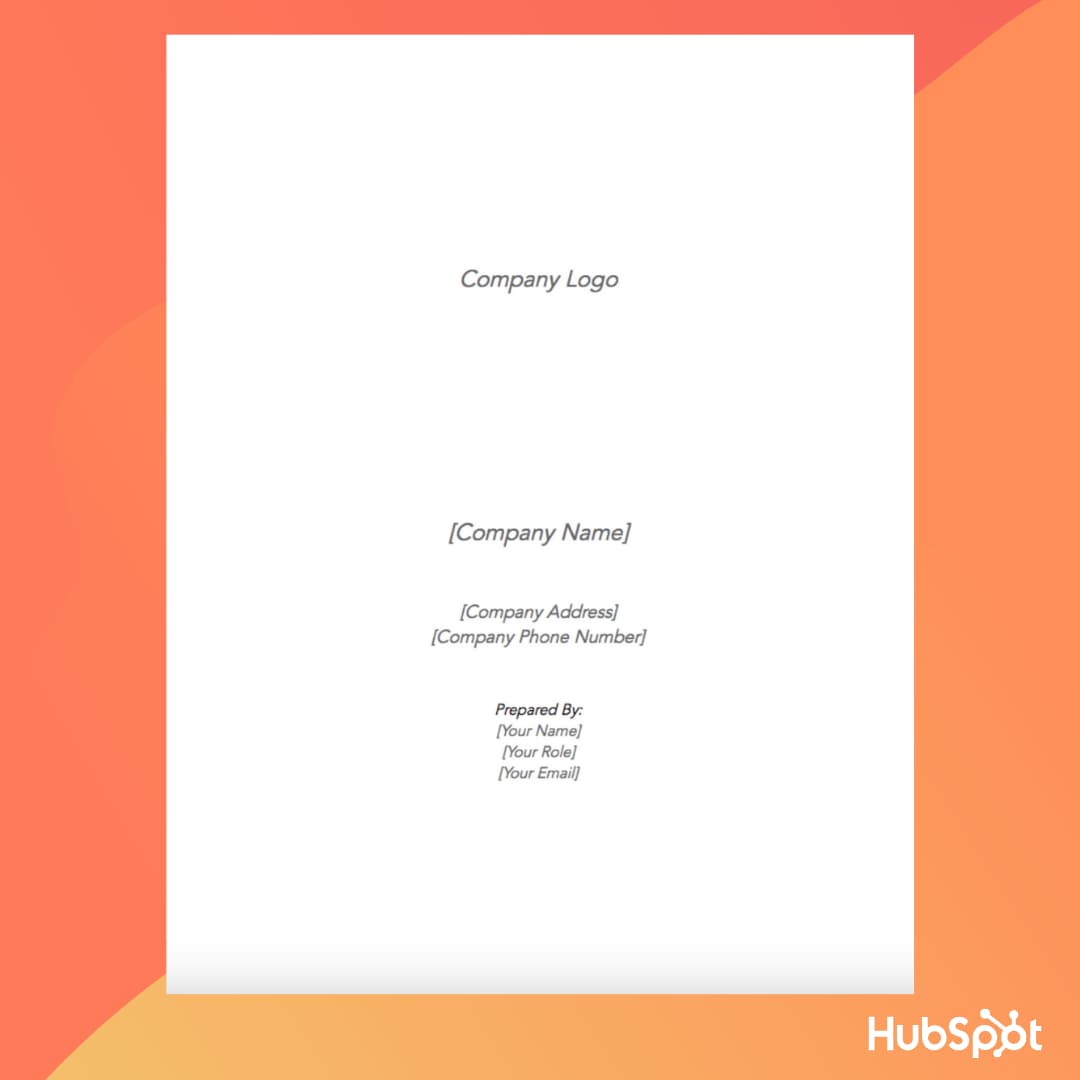 Since this business plan will likely change hands and be seen by multiple investors, you should also provide your own name, role in the business, and email address on the cover page.
At the bottom of this page, you can also add a confidentiality statement to protect against the disclosure of your business details. The statement can read as follows: "This document contains confidential and proprietary information created by [your company name]. When receiving this document, you agree to keep its content confidential and may only reproduce and/or share it with express written permission of [your company name]."
2. Executive Summary
The executive summary of your business plan provides a one- to two-page overview of your business and highlights the most crucial pieces of your plan, such as your short-term and long-term goals.
The executive summary is essentially a boiled-down version of your entire business plan, so remember to keep this section to the point and filled only with essential information.
Typically, this brief section includes:
A mission statement.
The company's history and leadership model.
An overview of competitive advantage(s).
Financial projections.
Company goals.
An ask from potential investors.
3. Company & Business Description
In this section, provide a more thorough description of what your company is and why it exists.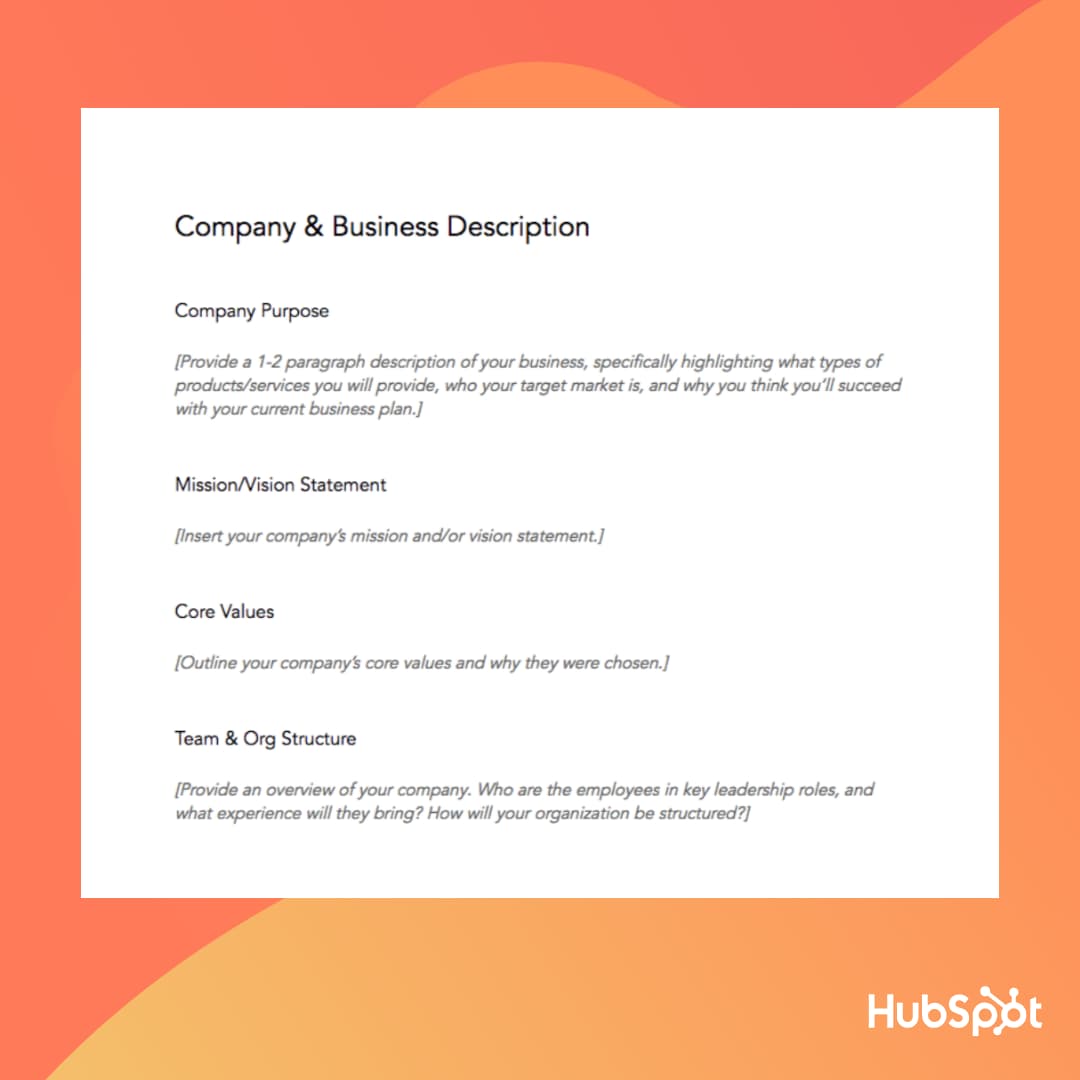 The bulk of the writing in this section should be about your company's purpose – covering what the business will be selling, identifying the target market, and laying out a path to success.
In this portion of your business plan, you can also elaborate on your company's:
Mission statement
Core values
Team and organizational structure
3. Product & Services Line
Here's where you'll cover the makeup of your business's product and/or services line. You should provide each product or service's name, its purpose, and a description of how it works (if appropriate).
Next, add some color to your sales strategy by outlining your pricing model and mark-up amounts.
If you're selling tangible products, you should also explain production and costs, and how you expect these factors to change as you scale.
4. Market Analysis
The market analysis section is where you'll provide details about the audience to which you're marketing your business. This should encompass the size of your total addressable market, your market's demographics and psychographics, and location analysis for your business' operating space.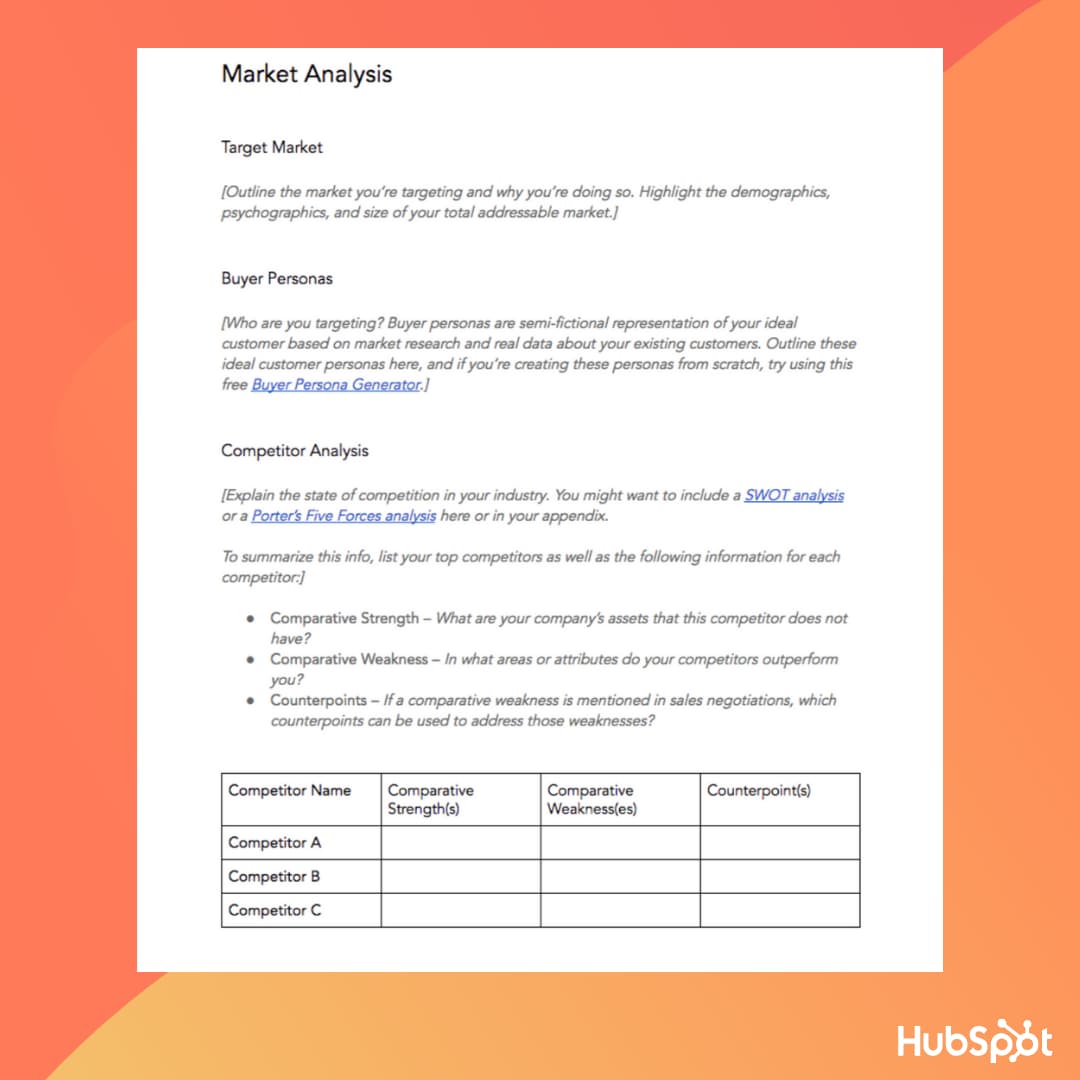 It helps to reference your market research documentation in this section, like a Porter's Five Forces Analysis or a SWOT Analysis (templates for those are available here). You can also include them in your appendix.
If your company already has buyer personas, you should include them here as well. If not, you can create them right now using the Make My Persona Tool.
5. Marketing Plan
Unlike the market analysis section, your marketing plan section should be an explanation of the tactical approach to reaching your aforementioned target audience. List your advertising channels, organic marketing methods, messaging, budget, and any relevant promotional tactics.
If your company has a fully fleshed-out marketing plan, you can attach it in the appendix of your business plan. If not, download this free marketing plan template to outline your strategy.
6. Sales Plan
It doesn't matter if your sales department is an office full of business development representatives (BDR) or a dozen stores with your products on their shelves.
The point is: All sales plans are different, so you should clearly outline yours here. Common talking points include your:
Sales team structure, and why this structure was chosen.
Sales channels.
Sales tools, software, and resources.
Prospecting strategy.
Sales goals and budget.
Like with your marketing plan, it might make sense to attach your completed sales plan to the appendix of your business plan. You can download a template for building your sales plan here.
7. Legal Notes
Your investors may want to know the legal structure of your business, as that could directly impact the risk of their investments. For example, if you're looking for business partners to engage in a non-corporation or LLC partnership, this means they could be on the line for more than their actual investment.
Because this clarification is often needed, explain if you are and/or plan to become a sole proprietor, partnership, corporation, LLC, or other.
You should also outline the steps you have taken (or will need to take) to operate legally. This includes licenses, permits, registrations, and insurance.
The last thing your investor wants to hear after they've sent you a big chunk of change is that you're operating without proper approval from the local, state, or federal government.
8. Financial Considerations
Ultimately, investors want to know two things:
When they will earn their money back.
When they will start seeing returns on their initial investment.
That said, be clear, calculated, and convincing in this section. It should cover:
Startup costs.
Sales forecasts for the next several months/quarters.
Break-even analysis for time and dollars.
Projected profit and loss (P&L) statement.
Facts and figures are key here, so be as specific as possible with each line item and projection. In addition, explain the "why" behind each of these sections.
However, keep in mind that information overload is a risk, especially when it comes to data. So, if you have pages upon pages of charts and spreadsheets for this section, distill them into a page or two and include the rest of the sheets in the appendix. This section should only focus on key data points.
9. Appendix
A detailed and well-developed business plan can range anywhere from 20 to 50 pages, with some even reaching upward of 80.
In many cases, the appendix is the longest section. Why? Because it includes the supportive materials mentioned in previous sections. To avoid disrupting the flow of the business plan with visuals, charts, and spreadsheets, business owners usually add them in the last section, i.e. the appendix.
Aside from what we've already mentioned – marketing plan, sales plan, department budgets, financial documents – you may also want to attach the following in the appendix:
Marketing materials
Market research data
Licensing documentation
Floor plans for your location
Mockups of your product
Renderings of your office space or location design
Adding these pieces to the appendix enriches the reader's understanding of your business and proves you've put the work into your business plan without distracting from the main points throughout the plan.
Use a Business Plan Template to Get Started
Writing a business plan shouldn't be an insurmountable roadblock to starting a business. Unfortunately, for all too many, it is.
That's why we recommend using our free business plan template. Pre-filled with detailed section prompts for all of the topics in this blog post, we're confident this template will get your business plan started in the right direction.
Editor's note: This post was originally published in June 2017 and has been updated for comprehensiveness.
Source link