I love CoSchedule! And in this CoSchedule review, I'm going to show you why you should love it too.
CoSchedule is a work management software tool that is designed for marketers. While its name may be a bit misleading, it is far more than a simple content scheduler and calendar. It provides a suite of tools that can help solve various marketing problems, and it can also be applied to multiple other situations and website types as needed.
Of course, this means it may be better for some types of websites than others. Today, we will be looking at the different features of CoSchedule and seeing what this service can be best used for.
CoSchedule Review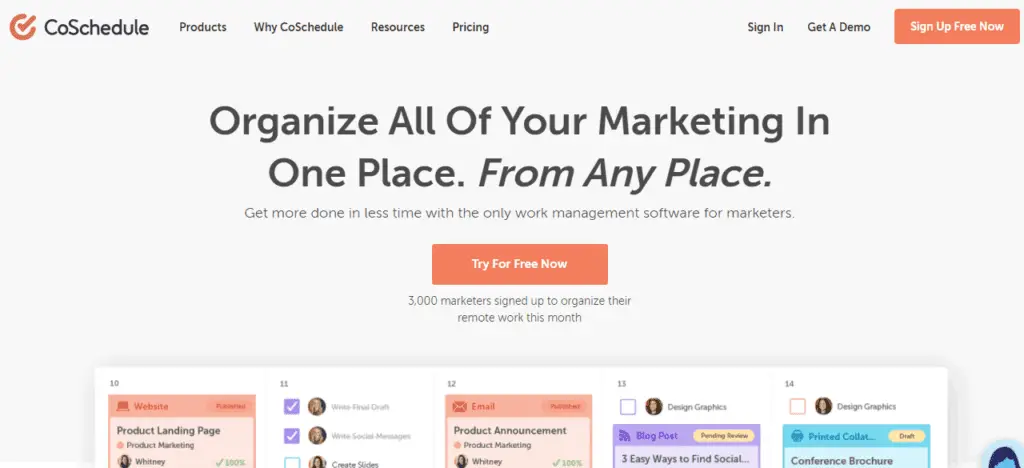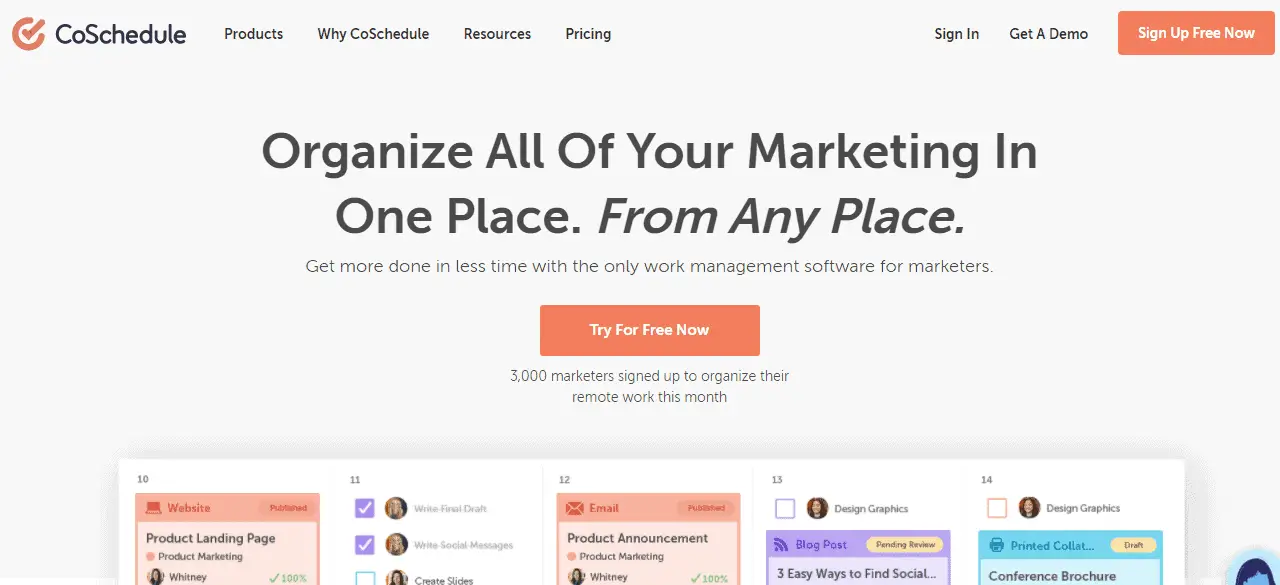 First conceptualized in March 2013, CoSchedule was a small blog intended to serve as a calendar of sorts to help manage events. After launching in September of that same year, CoSchedule would grow exponentially over the next few years, branching out into new states and countries as the company grew.
Since its conception long ago, it has evolved to become more than a simple scheduling blog. It now provides you with a product and tools to help manage any marketing or blog space.
Who is This App for?
This tool is great for anyone looking for software to help them manage and schedule various marketing projects as quickly and efficiently as possible. Geared towards those who work in marketing, they would be the most obvious ideal customer. However, CoSchedule has seen some use outside of marketing on various blogging or similar sites to promote online content and campaigns.
What's Included?
CoSchedule offers three different packages, each with its own designated set of tools and purposes. The first is Blog Calendar, a tool that can help manage online blogs and social media accounts, such as automated social schedules, real-time blogs, social calendars, and integrated WordPress compatibility.
Marketing Calendar includes everything in Blog Calendar and includes full social media management, shareable calendars for teams, project management, and custom calendar views.
Finally, there is Marketing Suite. This is the most extensive package and includes everything we have already mentioned. However, it also offers additional features that include but are not limited to progress trackers, file and asset storage, automated workflows, and calendar sorting.
Overview of Features
We briefly mentioned what is included in each of the packages, but now we will go a bit more in-depth and talk specifically about the different features included in each.
Starting with Blog Calendar, this is the cheapest package, starting at around $14 per month. It attempts to bring all your social media management and blogging tools together into one place, providing the functionality of having multiple extensions and tabs in one tool. By dragging and dropping blog posts, your social media messages will adjust automatically without you needing to adjust the calendar manually.
You can even use WordPress to create and publish your blog and social media posts. Additional features include the ability to schedule posts and content to be posted together at a later date using an automated scheduling planner.
Marketing Calendar fulfills a similar role but instead allows you to manage your marketing scheme better. You can view all your projects together, easily prioritize them as needed, and share these projects and updates with your team and higher-ups. Similarly, any updates you make to this centralized page will automatically reflect your flexible planning calendar by simply dragging and dropping your projects right into the calendar.
Marketing Suite does all of the above and more. By centralizing all of these tools and features, you can complete more work in a shorter amount of time thanks to efficient planning. You can place every project in a central location for easier management and schedule social media campaigns and posts using your creation templates.
You can design and implement efficient workflows and catalog and control files and assets, sharing them with your team and stakeholders. Marketing Suite is your one-stop-shop for all marketing management needs.
Pros and Cons
Here are the advantages and disadvantages of using CoSchedule.
Pros
Centralization: One of the more important aspects of streamlining the various scheduling processes is the centralization that CoSchedule performs. You can easily keep track of all your projects in one place.
Automated Updates: By keeping everything centralized, you can easily link your projects to your calendar. CoSchedule will then intelligently update all project dates to keep you and your team up to date.
Scheduled Posts: Another fantastic feature is the ability to schedule content and projects across multiple platforms. This means you can have automated social media updates at designated times.
Efficiency Saves Time: The entire purpose of CoSchedule is to streamline the management of marketing endeavors to finish projects on time so that you can complete more work in less time.
Specific Packages: By breaking up their service into separate packages, you can get the particular package that would pertain to your needs. For example, you wouldn't want a full marketing suite when you are only running a single blog.
Ease Of Use: There is a bit of a learning curve, but once you figure out where things are, you can easily navigate the systems and use drag-and-drop to configure and plan your projects effortlessly.
Cons
Price: While they offer free trials and demos, they are a bit on the pricier side than other tools that provide similar functions.
Complicated Layout: For those who want to use CoSchedule for more straightforward tasks such as running blogs, you might find that the layout and tools are tediously complicated.
No Bulk Uploads: A feature that is sorely missed is the ability to upload files and schedule items in bulk.
Conclusion
CoSchedule is like having a virtual marketing assistant to help keep all your projects, calendars, and marketing needs in check and on time. If you need help better managing your marketing schemes, then CoSchedule is well worth it.
Source link