I'm always looking for the best marketing tools. In 1987, I bought my very first marketing tool, a floppy disc of Palo Alto Software Marketing Plan. I've been a marketing tool junkie ever since.
Then, in 2010 I registered for AppSumo. If you don't know, AppSumo is like the QVC of software. New software brands provide insane lifetime deals to the AppSumo community. If you're registered, they send you emails with the latest deals on software. How good are the deals? Here's an example:
In 2013, I purchased WebinarJam for $39 (lifetime deal). Today, I have about $1000 per month worth of software that I use all the time. And I paid $39 for it!!!
If you haven't guessed, there's nothing I love more than a good deal on tools and apps. In fact, I'd say that I've got a bit of a tool and app shopping problem. Please understand, I have no intention of dragging you into my personal software tool addiction, but perhaps you can benefit from some of the tools I've bought, used and returned over the years.
Here's what I bought recently and I what I think about it:
AdCreative.AI : Creates high-converting Facebook Ad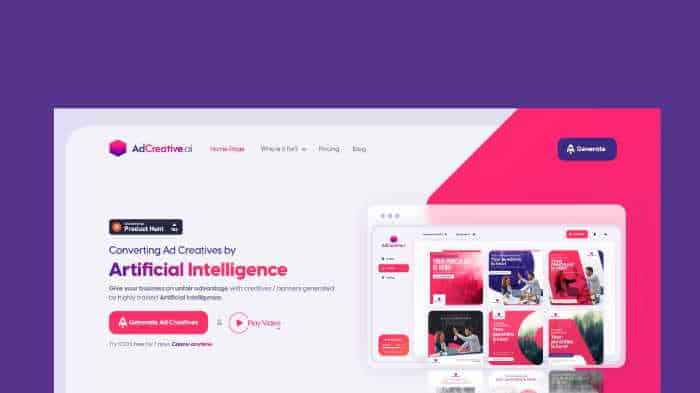 What is AdCreative.ai?
This software is designed to create high-converting Facebook ads automatically.
This program benefits people by saving time and providing an easy way to post ads on Facebook with out having to worry about the creative aspect. The themes and templates in this program work for a variety of different industries, such as pets, restaurants, supplements, coaching services and more. This may be a valuable tool for professional marketers or entrepreneurs who want to work smarter not harder.
Why I bought it
Aside from being a complete AI junkie, what grabbed my attention is the that this platform boasts "high-converting" Facebook ad designs. Since I plan on dipping my toes into some Facebook ads for future events and content — I thought I would bite. So I plunked down my $69 thinking it was worth trying out. (AppSumo has a super generous return policy so that makes it easy).
My first impression
The interface is gorgeous! It's super easy to use. There's a terrific little tutorial video that they urge you to watch. I normally don't, but I did this time. I was able to create ads in about 3 minutes. So YAY!
I've not tested the ads just yet — that's coming. But as far as getting your first round done — super easy.
Features I LOVE
Aside from the AI creating the ads, and AI rating the possibility of conversion, I love the fact that you can publish straight to the platform.
What no one tells you
Currently this is what I call a "minimally viable product". It's easy to use, it's functioning, and it's got a few teeny-weeny drawbacks.
Editing functions are limited. You can edit text, you can edit colors, but you can't edit the image. That seems a bit odd to me. I can see editing text. I would definitely rank editing image over changing colors. But that's probably coming.
It won't write copy for you. Let's be clear. there are two components to high-converting ads; images and copy. So, if your copy stinks, your ad won't convert. You have to write your copy. After seeing the character limits and lines that are offered in the platform, I created a couple different versions that I'm going to test.
Will I keep it?
I haven't run any ads yet – but I expect to keep this primarily for promoting and boosting content to drive more traffic.
Should YOU buy it?
I'd say that if you have NO intention of hiring a Facebook ads expert and you've been THINKING about running some Facebook ads – this might just do the trick. No doubt – super fast and easy.
Moving on… let's see what else is in my shopping cart.
Pagemaker.io creates high-converting landing pages
What is Pagemaker.io?
Pagemaker.io is a LeadPages or InstaPages alternative. Basically, it's a third-party landing page platform where you can promote lead magnets like ebooks, gather registrations, take registrations for events, etc.
Why I bought it.
Landing pages for gathering leads from lead magnets, event registrations, etc. can clutter up and slow down your website. Also, creating a high-converting landing page in WordPress requires plugins and tools. Believe me – I did it and it was a mess.
My first impression
OK. So it's not exactly LeadPages. BUT it's not $144 per year for 1 page and $300 per year for 3 pages. It's $69 FOREVER — so you gotta be flexible.
Features I love
Mobile first — first. Google LOVES mobile first. Everyone has been telling you to design every page mobile first. But this is the first landing page builder that STARTS with mobile first. I think this is super smart and you should too. Because most people will see your landing page – mobile first.
Drag and Drop Design. If you can select a box, choose an image and write some copy, you can have a website. It currently has just under 50 templates and most of them are for Main Street businesses, professionals, coaches, consultants, freelancers, etc. So if that sounds like you – you should be happy.
What no one tells you
If you want to start generating some sales very quickly — this is the perfect way to launch something without investing a ton of time or money.
You can use this tool to test new ideas, shoot, you can even offer a new service and see if anyone wants to buy it. Got a book you want to sell? Use this tool. Think of this as a website sandbox.
If you're visual like me — this is the perfect tool to layout ideas and test them. Then make simple changes to improve on your idea.
Will I keep it?
I think I will. I mean where else can you create a leadgen page for $69 and 30 minutes of your time? You really can't.
The Bottom Line
If you haven't noticed, the theme for this this set of tools is higher-conversions through artificial intelligence. While AI still isn't as good as you are at creating high-converting landing pages and Facebook ads, it will certainly get your creative juices flowing.
Source link